Overloaded with too much zucchini in your farm share? You need an exit strategy to deal with it – a plan to deal with it quickly before it stresses you out. Every home gardener who plants zucchini and even Farm Share or CSA members come up against this ubiquitous summer challenge. No one likes to waste food but sometimes you just get overwhelmed. You've already made enough zucchini bread to last until Christmas so now what?  Zucchini is a summer squash and is mild in flavor so it can be used so many ways. You'll be surprised at the creative things you've never thought of using your summer squash, no matter what variety you have.
I've been asked multiple times recently for ideas on what to do with too much zucchini so I'm going to give you all my ideas here with links to some recipes. We've been sending zucchini out every week in our farm share deliveries since the end of June and it doesn't look like it's stopping. Some years our early plants die of disease before the next rows are ready to produce and we end up with a gap in production but not this year. Some of you would like a break, maybe? Good thing that's an option with our custom farm shares which allow you to swap something in your box for something else you'd rather have on a particular week.
10 Exit Strategies for Zucchini & Summer Squash OVERLOAD
Chop & Freeze: I chop any variety of summer squash into bite-size cubes, stuff it into quart-size freezer bags, and simply put it in the freezer without any need to process.

Advantage: Quick and easy; add to winter soups or stews.
Disadvantage: summer squash retains a lot of water so you are using up space in your freezer; when thawed the zucchini will be mushy so don't plan on sauteeing or using in a recipe that will be affected by the extra liquid.

Shred & Freeze: Shred on a box grater or food processor. Squeeze our extra liquid and pack it into quart-size freezer bags.

Advantage: less bulky and reduced water content; measure and freeze by the cup to add to recipes later.
Disadvantage: still too wet for some recipes.

Dehydrate: I usually shred in a food processor and then spread layers onto my dehydrator trays for several hours until pliable or almost crispy.

Advantage: concentrates the sugars and eliminates water content. The dried shreds actually taste sweet and yummy on their own. Store easily in a jar or freezer bag. It seems like I can get a picking bin of zucchini in a quart bag this way. USE: in soups, stews, cakes, muffins, egg bakes, casseroles. Usually no need to rehydrate before using.
Disadvantage: some ovens can be used to dydrate veggies but a dehydrator is best and more efficient. I like my Excaliber.
USE: in soups, stews, cakes, muffins, egg bakes, casseroles. Usually no need to rehydrate before using.

Dried Zucchini Chips: makes a yummy snack and can be baked in the oven or use dehydrator for larger quantities. Recipe Here​
​Surprising Dessert:  Mock Apple Cobbler is a great dessert that no one will realize it's zucchini unless you tell them. Our family loves this dessert. Gluten-Free version here.​
​Extra Nutrition: Zucchini Pizza Crust is my favorite gluten-free pizza crust but it could be a wheat crust with extra veggies if you want.
Bulk Cooking: Now is the season to make a huge batch of Ratatouille with all the eggplant, tomatoes, and zucchini at their peak. Freeze or pressure can it for later or just enjoy it all week long.
​Freezer Meals: Zucchini Parmesan and lots more ways to use zucchini in this blog post. Stuffed Zucchini or 20 more ideas for stuffed options.
More Great Recipes: Spicy Zucchini Lasagna uses thin-sliced zucchini instead of pasta. Grilled Pesto Stuffed Zucchini. Stuffed Zucchini Boats are a fun, creative meal for your family.  Some of these recipes made me hungry: 10 ways to use zucchini. Grilled Summer Squash with Feta and Onion. ​
Even More Ideas: Just in case these ideas aren't in any of the links above, don't forget about zucchini bread, muffins, chocolate zucchini cake, zucchini fritters, zucchini pancakes, my favorite zucchini basil salad, Cheesy Zucchini crusted Quiche, and don't forget to put zucchini in your pasta sauces.
We'll keep farming for you!
Reuben and Tessa DeMaster
​Willow Haven Farm​
​Directions to the farm​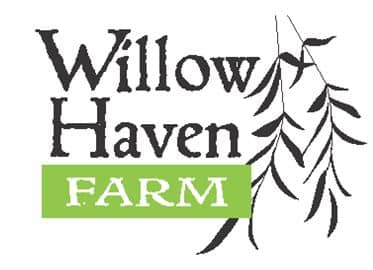 ​
Head on over to Farm Stand to make your order.
​
order by Monday 10 pm each week
low minimum order = $30!
home delivery on Wednesday and Thursday afternoons ($7)
farm pick up Wednesday afternoon is FREE
More Details:

Weekly specials are featured in our Farm Stand emails – JOIN​
Ever need to change or add to your order?

Email me to delete your first order.
Create a new order with everything you want.

Your credit card is not charged until all orders are finalized by the farm the following Tuesday.
>>Check out Farm Stand<<
---
Are you new? More info about our farm:
ON FARM MARKET OPEN SATURDAYS! Come in for fresh brick oven bread, organically grown veggies, or check out the Online Farm Stand to make an order for Wednesday.
SUMMER SHARES: ​Get the six-question guide Is a Farm Share CSA Right for You Guide to find out if our Farm Share CSA will fit into your life and your goals. YES! SEND ME THE GUIDE.
How do you Refer A Friend? Members get REWARDED for getting their friends to join too! When you tell others about our farm, you both earn $15 Farm Credit when they start their own membership using your unique referral code. Read this article to find your link, then send it to your friends.
FLOWERS: ​Annika's private CSA takes members who want flowers delivered to them every week during the summer and fall. Members enjoy the beautiful variety of local flowers, information from Farmer Annika about the flowers, a Flower Guide, and a unique note each week. Flower Shares can be added to your farm vegetable share as well. They come carefully wrapped and included in your box with each delivery. Just select Flower Add On Share after choosing your perfect size Veggie Share. ​
CHEESE: Want to purchase amazing grass-fed artisan cheese from our sister business, Haven Farmstead? The grass-fed dairy cows at Willow Haven Farm are co-owned by farmer Reuben and cheesemaker, Steve. Living on pasture and milked once a day, they produce excellent milk for the best old-world-style cheeses. If you've traveled to Europe, you'll be pleasantly surprised to find the same excellent flavors here in PA. Shop the Cheese Store.