Workshop Spotlight: Hands One Experience in Pastured Poultry Butchering
Elevate your homesteading journey with our engaging Pastured Poultry Butchering Workshop, led by Brandon Cooper. Join us on September 2nd for a hands-on experience that delves into the heart of sustainable living. Learn essential skills that connect you with your food source and empower you to embrace self-sufficiency.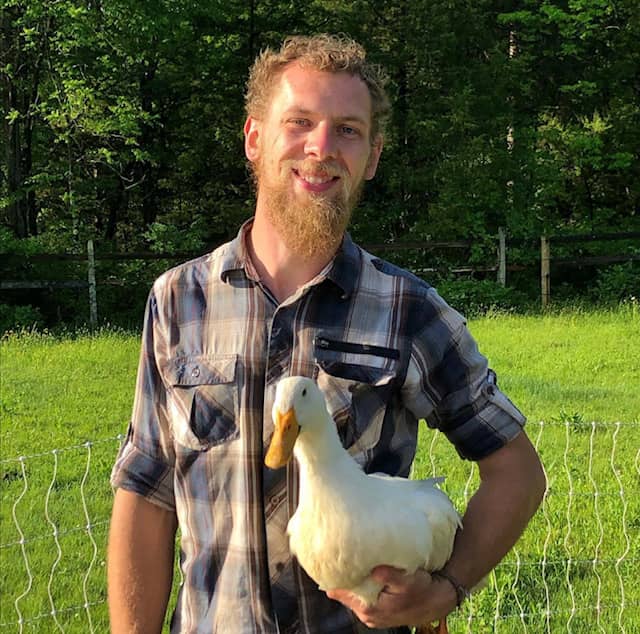 Brandon's Background: Brandon Cooper has been raising 'Happy-Healthy-Meat' since 2020. His journey into raising pastured poultry began when he and his wife were learning to eat healthier. With a background in permaculture and regenerative agriculture, Brandon's interest grew even stronger after attending a Joel Salatin clinic in 2019. Inspired and eager to put his newfound knowledge into practice, he started his own small business raising pastured poultry in 2020. In his first year, Brandon raised and sold 800 birds to locals in the Bucks County, PA area. Since then, he has successfully raised pastured poultry for his family and customers, embodying the principles of regenerative farming.
Workshop Description: In this hands-on experience, you'll learn the nuances of choosing the perfect breed and guiding a baby chick through every step until it becomes a cut-up, ready-to-cook package of meat. Brandon's expertise will guide you through raising, capturing, culling, scalding, plucking, eviscerating, cutting up, packaging, and troubleshooting—every intricate detail covered. But that's not all—Brandon's workshop goes beyond the basics. He'll also touch on the intricacies of managing laying birds, waterfowl, and quail.
Hands-On Workshop Experience: In this immersive workshop, participants will have the unique opportunity to engage directly with the principles of pastured poultry butchering. Guided by Brandon's expertise, attendees will delve into the hands-on process of butchering laying hens that have reached retirement age. You'll gain practical experience using the farm's facilities and benefit from the expert guidance that Brandon provides at every step. This hands-on component ensures that you'll not only learn the theory but also develop the confidence to apply your skills in a real-world context.

As a rewarding takeaway, each participant will have the chance to bring home their own stewing hen—a tangible result of your newfound knowledge and hands-on effort. This workshop is all about empowering you with practical skills that extend beyond the classroom, enriching your homesteading journey and fostering a deeper connection to the food you raise.
Why This Matters: Homesteading is not just about growing your own food; it's about fostering a deeper connection with the environment, mastering skills that sustain you, and achieving self-sufficiency. Acquiring the knowledge and hands-on experience in pastured poultry butchering empowers you to embrace a more self-sufficient and sustainable lifestyle.
 Workshop Details:
Date: September 2, 2023
Time: 10 am
Location: Willow Haven Farm, New Tripoli, Pennsylvania
Price: $29
Spaces for Brandon's workshop are limited, so secure your spot now to ensure you don't miss out on this experience. Register today using the link below:
​
This is your chance to master the steps of pastured poultry butchering and emerge with a skill set that aligns with the essence of self-sufficiency. Brandon's dedication to sharing his expertise ensures that you'll leave this workshop equipped with valuable knowledge that can transform your homesteading journey.
Join us for an unforgettable day of learning, connection, and growth at the Harvest of Wisdom event. Secure your spot today and take a significant step towards embracing sustainable living.
Stay tuned for more updates as we count down to the event. Your journey to mastering homesteading skills starts here.
​